Relays  Toggle Switches  Contactors   Pushbuttons   Rocker Switches
 Circuit Breakers  Remote Control Circuit Breakers 
Products and Systems from Safran Power USA plant located in Sarasota, Florida, function to control, switch and distribute electrical power in commercial and general aviation, military aircraft and off-highway vehicle markets. Most products and systems have to perform in very harsh environments and require an extremely high degree of performance reliability. Engineered interfaces including relays, toggle and rocker switches, miniature switches, limit switches, push-button switches, remote control circuit breakers and power and load management systems.
The acquisition of Mechanical Products Inc. aerospace product lines of Jackson, Michigan several years ago adds both thermal and magnetic actuated electro-mechanical manual circuit breakers and a family of remote control circuit breakers.
Performance Rated Relays and Remote Control Circuit Breakers
Hermetically and environmentally sealed power relays meet exacting MIL-R-6106 requirements for high-humidity, high-impact and high temperature conditions. Safran Power USA Sarasota plant has been a leader in environmentally sealed products. Safran Power USA offers a wide range of Mil-Spec qualified relays and application specific devices. Check our inventory search for your unique requirement.
Performance Rated Switches
Each switch design is optimized for your particular application by using the appropriate switch mechanism. Options include contact-less, extended-life, snap-action, tapered, and limit switch versions. Performance ranges from logic level to high power applications. Safran Power USA Sarasota plant offers the full line of switch products; toggles, pushbuttons, rockers, snap action, sealed limit and all the associated switch guards and shields. Our inventory covers them all.
Thermal Circuit Breakers
Safran Power USA Electric Distribution and Controls produces a diverse line of performance rated "power and load management products" serving stringent applications in the aerospace and commercial markets. The acquisition of mechanical products adds a complete product offering of thermal breakers, from the extensive Boeing qualifications to the broad array of Mil-Spec approvals, Safran Power USA offers the complete solution.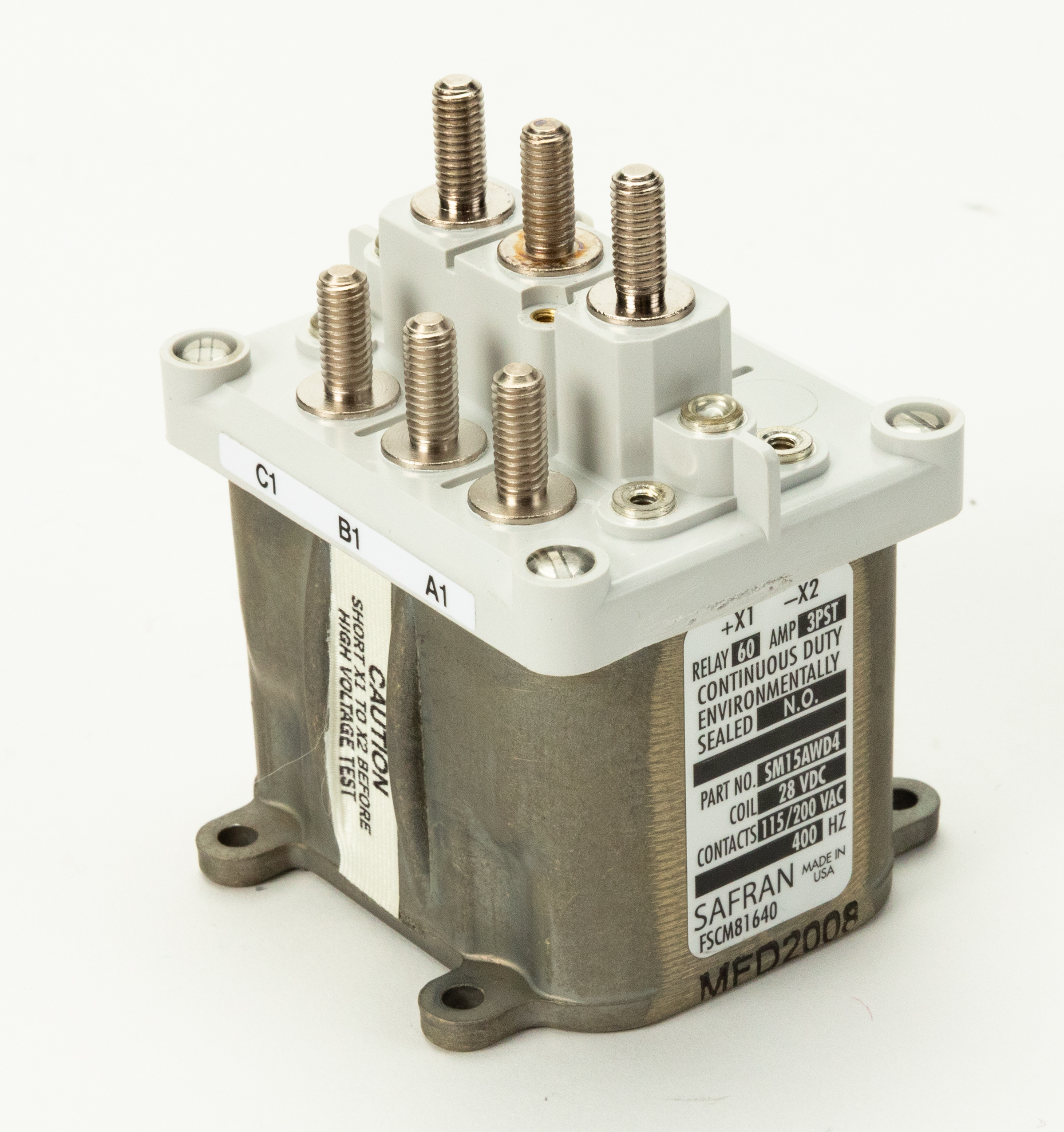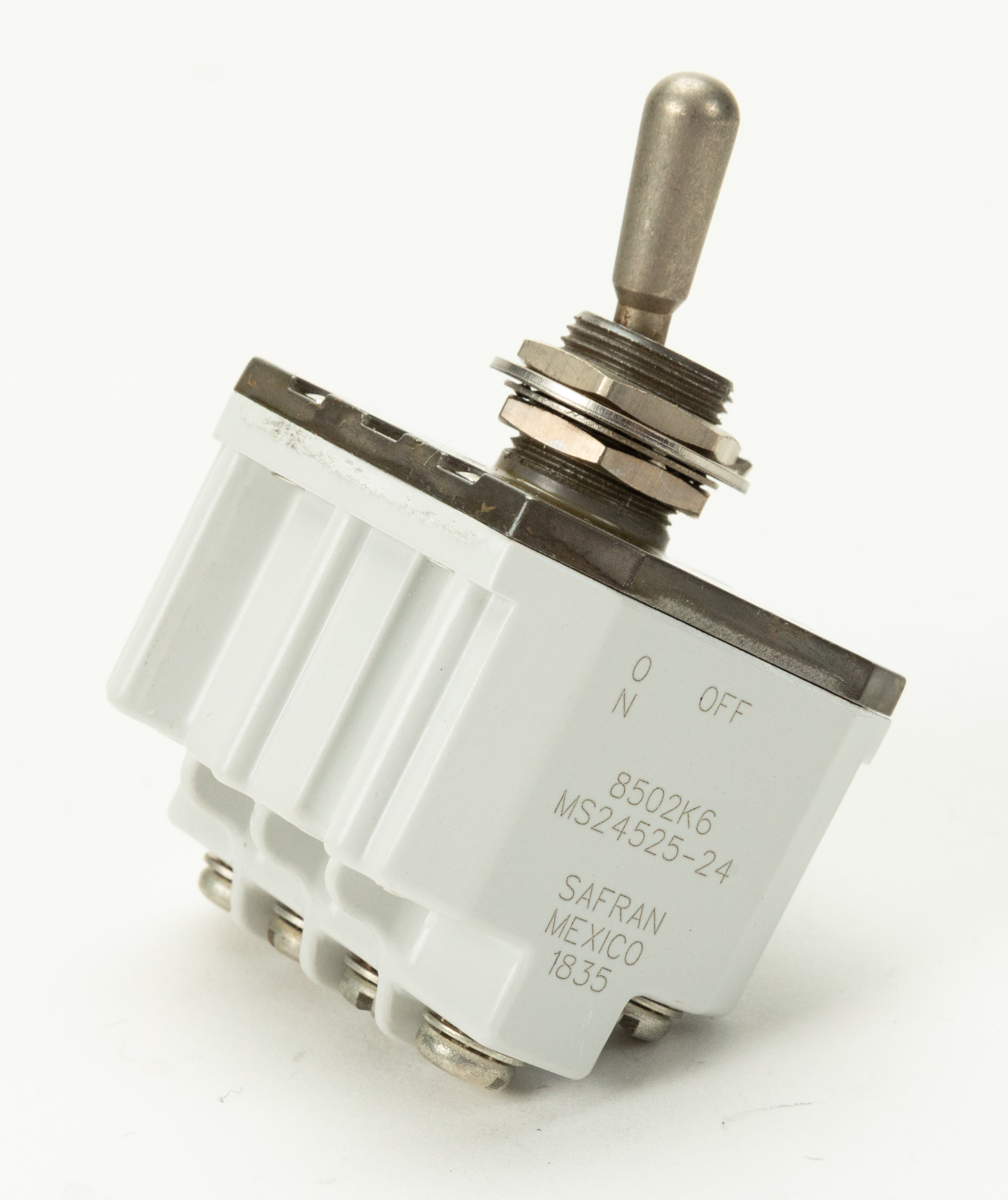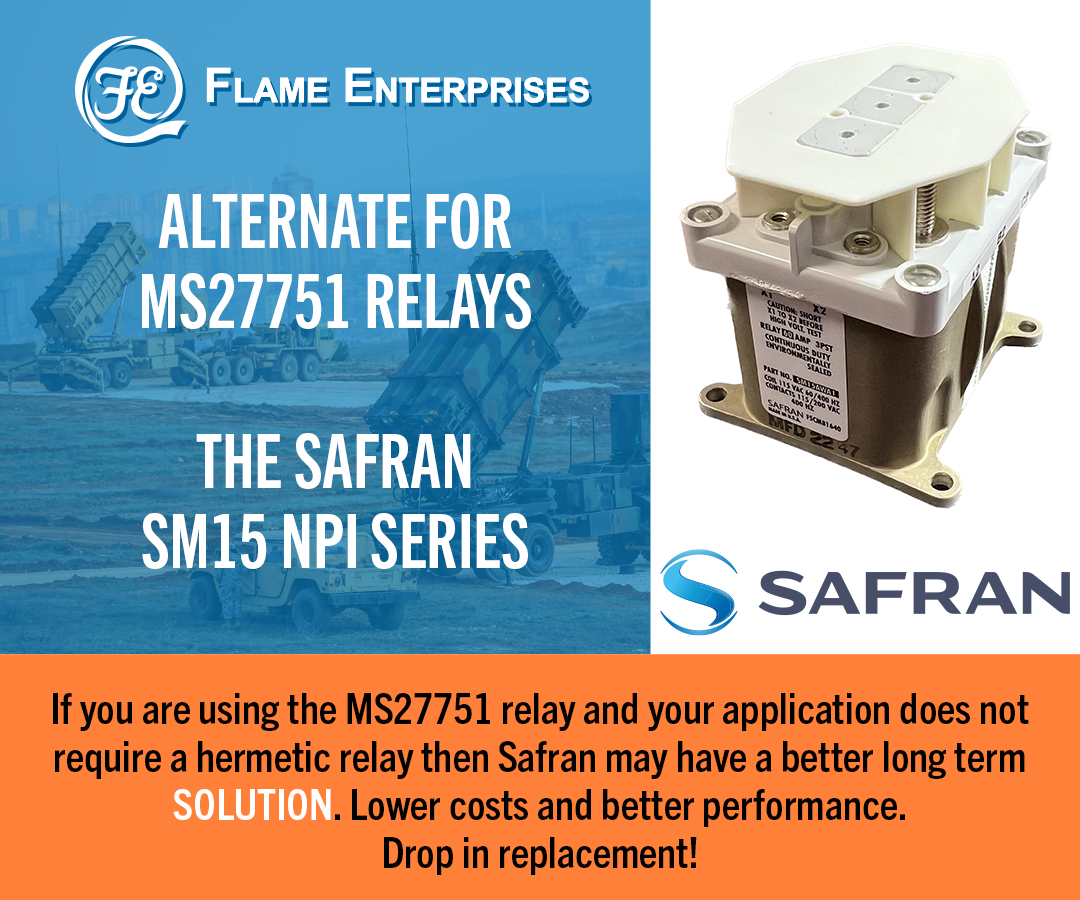 Introducing
Safran Power SM15 NPI Series
Safran Electrical & Power's facility in Sarasota is a leading manufacturer of Aerospace contactors. For decades Safran Electrical & Power has been producing the SM15 family of contactors. Many contactors in this family meet the demanding performance requirements of MIL-PRF-6106 and are sole source on the qualified product database for many of the military specification "slash" sheets of this base specification. One "slash" sheet, the MS27751 family, can be satisfied fit and functionally by some of these NEW SM15 contactors.
SM15 NPI Series Data
Click on any link below to open a PDF information sheet, PDF drawing or product image. These documents are for reference only. To request the latest document revision or to request other documentation, please contact Sales
Series
Description / Mil-Specification
Additional Info
Toggle Switches
8510-8512
Industrial Sealed Toggle Switches
 
8520-8528
Industrial Sealed Toggle Switches (UL/CSA)
 
8566-8568
Industrial Sealed Designer-line Toggle Switches
 
8530-8532
Industrial Econoline Sealed Toggle Switches
 
8536-8538
Econoswitch Sealed Lever-lock Toggle Switches
 
8533-8535
Econoswitch Sealed Designer-line Toggle Switches
 
8500-8502
Mil-S-3950 Toggle Switches
MS24523, MS24524, MS24525, MS27406, MS27407
 
8503-8505
Mil-S-3950 Lever-lock Toggle Switches
MS24658, MS24659, MS24660
 
8570-8572
Mil-S-3950 IWTS Toggles Switches
MS27722, MS27723, MS27724, MS27784, MS27785, MS27786
 
8573-8575
Mil-S-3950 IWTS Lever-lock Toggle Switches
MS27781, MS27782, MS27783
 
A-3
Mil-S-8805 Multi Circuit Switches
M8805/93
 
8836-8845
Mil-S-8834 Sealed Positive Action Toggle Switches
MS25306, MS25307, MS25308, MS14001, MS14002, MS14003
 
8836KP-8838KP
Flush Mount Sealed Positive Action Toggle Switches
 
8866-8869
Mil-S-8834 Miniature Positive Action Toggle Switches (Solder)
MS24655, MS24656, MS21353, MS90310, MS90311
 
8866-8869
Mil-S-8834 Miniature Positive Action Toggle Switches (PCB)
MS21354, MS21355, MS21356, MS21357, MS21433, MS21434
 
8855-8856
Mil-S-8834 Miniature Positive Action Toggle Switches (Lever-lock/Solder)
MS21026, MS21027, MS21436, MS21437
 
8855-8869
Mil-S-8834 Miniature Positive Action Toggle Switches (Lever-lock/IWTS)
MS21346, MS21347, MS24655, MS24656
 
8854
4 Pole Miniature Positive Action Toggle Switches
 
8879
4 Pole Miniature Positive Action Lever-lock Toggle Switches
 
T - TW
Miniature Integral Toggle Switches
MS18151
 
8780-8792
High Capacity Flush Mount Toggle Switches
AN3230
 
***
Toggle Switch Nominal Ratings and Circuit Diagrams
 
Pushbutton Switches
D200
Heavy Duty Momentary Snap Action Pushbutton Switches
 
H2200
Double Pole Momentary Snap Action Pushbutton Switches
 
J300
Alternate Action Moisture Proof Pushbutton Switches
 
C20050
Momentary Snap Action Pushbutton Switches,
MS16712
 
J4004
Alternate Action Pushbutton Switches
 
J100
Alternate Action High Current Pushbutton Switches
 
W300
Moisture Proof Pushbutton Switches
 
W9000
Swivel Action Pushbutton Switches
 
W9600
Wide Button Moisture Proof Pushbutton Switches
 
C100-W100-WC150
Uniform Panel Appearance Pushbutton Switches
 
B9001-B9022
Sub-Miniature Pushbutton Switches
M8805/96
 
B7070
Sub-Miniature Pushbutton Switches
M8805/95
 
A20000,J20000
Momentary & Alt. Action Snap Action Illuminated Pushbutton Switches
M22885/18
 
8895-8899
Hand Controls with Pushbuttons (Grips)
NAF1173, NAF1174
 
8870-8809
Special Designed Pushbutton Switches
M8805/55
 
Rocker Switches
8551-8553
Econoswitch Sealed Rocker Switches, with Removable Button
 
8554-8556
Econoswitch Sealed Rocker Switches
 
8540-8542
Environmentally Sealed Rocker Switches
 
8543-8545
Environmentally Sealed Rocker Switches, with Removable Button
 
8546-8548
Environmentally Sealed Rocker Switches
 
***
Rocker Switches Circuit Arrangements
 
Precision Snap Action Switches
D,E,G,K,S
Basic Switches, Precision Snap Action Switches
MS25085, MS25342, MS25343, MS25244, MS25348, MS25349, MS25353, MS25356, MS25357
 
A2-5,A5-18
Basic Switches, Precision Snap Action, Roller and Leaf Actuator
 
Sealed Limit Switches
H11
Environmentally Sealed Limit Switches
MS21321, MS24331, MS27240
 
HH
Hermetically Sealed Limit Switches
 
Switch Guards and Shields
8492K-8499L
Switch Guards, Mil-G-7703
MS24417, MS25214, MS25221, MS25223, MS25224, MS25225, MS25452, MS27752, NAF47851-1
 
73
Pushbutton Shields
 
***
Switch Guard Application Table
 
 
Accessories and Mounting Hardware
 
***
Protective Seals
 
***
Adapter Nut and Attachable Tips
 
***
Mounting and Terminal Hardware
 
 
Rating, Cross Reference and Engineering Data
Glossary of Terms
Series
Description / Mil-Specification
Additional Info
Safran Power USA Circuit Breakers
160
Single Pole, 50-100 Amps
MS25361, MS25361-V
 
170
Single Pole, 125-200 Amps
 
700
Single Pole, Miniature, 5-50 Amps
MS25244, MS25244-P, MS25244-PT
 
1500
Single Pole, Fast Trip, .5-10 Amps
 
4001
Single Pole, Sub-miniature, 1-25 Amps
MS22073, MS22073-V, MS22073-D
 
4200
Single Pole, Lightweight Sub-miniature, .5-25 Amps
MS26574, MS26574-L, MS26574-D, MS26574-A, MS26574-DL
 
4310
Ambient Temp. Compensated, Sub-miniature, 1-25 Amps
MS3320, MS3320-L, MS3320-V, MS3320-VL
 
940
3 Phase, High Capacity, 50-200 Amps
 
1526
3 Pole, Fast Trip, 1-15 Amps
 
1536
3 Pole, 3 Phase, Miniature Ambient Temp. Compensated, 5-50 Amps
 
4330
3 Phase, Ambient Temp. Compensated, 1-25 Amps
MS14154, MS14154-L, MS14154-V, MS14154-VL
 
RCCB
Remote Control Circuit Breakers
M83383/01, M83383/02, M83383/04
 
RPC
Remote Power Controller
 
***
Additional Products and Accessories
 
***
Circuit Breaker Terminology